Amplified Creatine 189

Review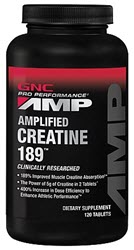 How Does
Amplified Creatine 189 Compare?
Click Here To See The Reviews
Rated: 6.5 out of 10
by BuyHGH.com
Nothing, that's right, I said nothing, is more important to a bodybuilder or any other real athlete than knowing that they have done everything possible to get the most out of each and every training session. From workout to recovery period to their dietary choices every single part of their regimen must work together to maximize the benefits they work so hard for. After all, achieving the ultimate goal of sculpting the body of a god and competing against the best this world has to offer is not a pursuit for men and women who lack the desire and everything else it takes to create the perfect body. And, to take advantage of all of these efforts and get every ounce of benefit from all they do these champions need a dietary supplement that will help them squeeze every ounce of benefit out of all they do. The question that plagues so many of them is simply - which bodybuilding supplement will give me everything I need and hopefully more.
One would think that in this day and age with all of the advances made in the world of dietary supplements that this answer would be clear. But, unfortunately, that couldn't be farther from the truth. The fact is that because there is so much money to be made in this multi-billion dollar industry that everyone with a lab or who can hire a lab can make a dietary supplement, build a slick marketing campaign and put out a product that will allow them to get their slice of the pie. This means that it gets harder and harder to know which bodybuilding supplement is truly safe, effective and everything the producer claims it is. So, understanding that this is the case, we, as always have decided to take a long, hard look at one of the most talked about bodybuilding supplements on the market today to see how it stacks up against the competition to see if it might be right for you - it's called Amplified Creatine 189.
About Amplified Creatine 189
A product of General Nutrition Centre, Amplified Creatine 189 is part of a new generation of bodybuilding supplements designed to pack more punch into ever smaller doses. It claims to have done so by reformulating the active ingredients and focusing on the method for delivering the critical Creatine Hydrochloride which, they say, can boost the absorption rate over other, older and far less bolder competitors by 189% - hence the name. Furthermore, this new formulation leads to a far faster rate of absorption which can increase the growth of lean muscle mass far faster than ever before. In fact, the company claims that visible results can be seen in as little as two weeks.
Amplified Creatine 189 User Reviews
As we discussed earlier in this review, because the industry for dietary supplements and especially supplements designed for bodybuilders and other top performers has been flooded with products that can often make themselves sound like the answer to your dreams it is increasingly difficult to easily determine whether a product is good, great or absolutely worthless. This task becomes even harder when you look at the way various brands and products build their marketing campaigns utilizing testimonials and user reviews. And, of course, these testimonials and user reviews that you will find on a products official website, assuming there is one, or on other affiliated online retail outlets such as Amazon.com or eBay are almost always cherry picked and highlighted to make it appear as if their product is getting glowing reviews from everyone.
Now, knowing that this is the way things are done we took it upon ourselves to go in another direction - one that utilizes user reviews found on less biased sources such as industry websites and chat rooms dedicated to the subject but not affiliate with the producer of Amplified Creatine 189.
Unfortunately, what we found was that the majority of user reviews found on the independent sources were far more negative in nature than we expected. The key takeaway from most of what we saw was that Amplified Creatine 189 just did not deliver on its claims, or at least, not nearly to the satisfaction of these real world users. In fact, the most common theme that we saw was that the users did not experience any appreciable benefit from using this product even though many of them followed the recommended use for at least thirty days or more.
Amplified Creatine 189: Positives
New formulation accelerates growth of lean muscle mass
Promotes faster burning of unwanted fat cells
Increases endurance and stamina to maximize workout sessions
Price is competitive with similar products
100% money back guarantee
Amplified Creatine 189: Negatives
Results may vary depending on training methods and intensity
Potential for problems related to allergic reactions
Independent user reviews were mostly negative in nature
Health Concerns
Based on the numerous reports of allergic reactions to the use of Amplified Creatine 189 even among those with no stated history of known allergies it is even more crucial that potential users first consult with their primary care physician or other qualified medical professional before beginning use of this or any other similar product especially if you have any history of serious allergic reactions or other medical conditions that may be exacerbated by the use of a dietary supplement.
Pricing And Dosage
Competitively priced versus its competition, a one month supply of Amplified Creatine 189 is currently retailing for $37.00. The d recommended daily dosage is four capsules per day.
Our Final Verdict
As we discussed at the beginning of the review, there is nothing more important to a serious athlete, and in this case, an ultimate athlete who is on the path toward a god-like body than to maximize in every way possible the benefits they get from each and every workout, recovery period and dietary regimen. This means that the bodybuilding supplement that they choose must offer everything they need and absolutely nothing less. And, being the market has been flooded with more and more competitors offering more and more claims that they have the ultimate secret formula that, of course every serious bodybuilder wants, it only gets harder to know which brand offers the formula that will truly deliver on its promises.
Our in depth look at Amplified Creatine 189 showed us several things about this product that were unexpected. First of all, based on the reputation of the producer, we expected that we would be able to find extensive information related to clinical research, studies or other trials that would support the claims made by Amplified Creatine 189. When combining that critical lack of scientific information with a surprisingly negative majority of independent user reviews gleaned from unaffiliated industry websites and chat rooms dedicated to the subject it becomes more than difficult to see how anyone could consider placing Amplified Creatine 189 in the same class as the bodybuilding industries true top performers.
For more information regarding high quality, top ranked bodybuilding supplements available on the market today, click here.
Editors Choice
Click here to see which HGH product ranks the best on our
comparison chart
.