Renewal HGH Workout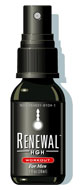 How Does
Renewal HGH Workout Compare?
Click Here To See The Reviews
Renewal HGH Workout is an offering from the Always Young HGH line of human growth hormone products. A spray product, it is targeted specifically towards men to increase the benefits of exercise and fight the effects of aging. As we age, the production of human growth hormone within the body naturally declines, and products such as Renewal HGH Workout for men seek to reverse the effects of this reduction.
Renewal HGH Workout Review
Like the other products from the same manufacturer, Renewal HGH Workout relies on PVM (purified vibrational memory) water as its unique hook in the HGH market. There is no real explanation of what this is aside from the fact that it is water reconstructed with use of light. So, basically, it is safe to assume that this is just water. Also like the other products in the line, Renewal HGH Workout suffers from the same low concentration of active ingredients. Like the similar spray targeted at women, Renewal HGH Workout for men has several added dietary supplements and vitamins, but it is sold as an HGH product, and that is where its strengths should come from. Unfortunately, this is not the case.
Renewal HGH Workout Ingredients
Renewal HGH Workout relies on the same basic ingredients as the rest of the product line: PVM water, combined with a low concentration of HGH, with the inclusion of IGF-1 or insulin-like growth factor. As Renewal HGH Workout is specifically designed for men, it also includes testosterone and creatine. A product obviously targeted at bodybuilders and those with serious exercise routines, men with well-established fitness routines stand to benefit most from these ingredients.
Buy Renewal HGH Workout
A quick internet search will turn up several online retailers selling Renewal HRH Workout. The manufacturer's site offers it at $40 for a one ounce bottle, which should last five to six weeks depending on use. Always Young HGH also offers a frequent sale, with four bottles for $99. The bottles can be mixed and matched from among all products in the line, but must be bought in multiples of four to qualify.
Does Renewal HGH Workout Work?
One of the main reasons people shop for human growth hormone products is because they have realized they're not necessarily in the best physical shape and are experiencing the natural effects of aging - loss of muscle density and increase of body fat, along with duller skin and the appearance of wrinkles. Renewal HGH Workout, being specifically targeted towards men, will likely attract male purchasers in these circumstances. Renewal HGH Workout, however, with its low concentration of human growth hormone, will best benefit fit men, especially bodybuilders. Those without workout routines in place will not experience enough of a boost in HGH from Renewal HGH workout to cause the desired benefits. A sedentary person will experience the same limited results given by Renewal HGH Workout by simply taking up a mild exercise program and adding a meal replacement shake to their day. Renewal HGH Workout will provide no miracle results.
Editors Choice
Click here to see which HGH product ranks the best on our
comparison chart
.