Growth Tech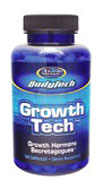 How Does
Growth Tech Compare?
Click Here To See The Reviews
Rated: 9 out of 10
by BuyHGH.com
Growth Tech by Body Tech is a human growth hormone capsule product. A hormone-based product, it is intended and most often used to stimulate muscle growth and building and also increase fat burning. The manufacturer, Body Tech, markets its products mostly to bodybuilders and others interested in increasing muscle mass.
Growth Tech Review
Though it is billed as a dietary supplement, the directions for taking Growth Tech indicate that two pills should be taken before exercise and two pills directly after exercise. Growth Tech does not make the same promises that many human growth hormones work. There are no claims that taking Growth Tech will lead to less wrinkles or increased energy. Growth Tech is focused purely on muscle development and fat burning. Consumers looking for the anti-aging benefits of HGH should look elsewhere, unless they themselves are professional weightlifters.
Growth Tech Ingredients
Growth Tech by Body Tech contains Mucuna Pruriens extract, Alpha GPC, and Bacopa Monniera Extract. Those with allergies should also note that the capsules do contain soy. Interesting to note about the ingredients in Growth Tech is that while the product is sold by Body Tech as hormone support, and it is purported to be an HGH product, none of the pituitary extracts or amino acids an educated HGH consumer would expect to find are present.
While that is not completely unusual as some manufacturers have claimed proprietary blends of certain herbs as their own, Growth Tech is further separated from the pack by having no literature explaining how the product works to create or release HGH within the body. The consumer is apparently just supposed to trust that it will happen.
Buy Growth Tech
One reason someone interested in human growth hormone products may find themselves drawn to Growth Tech is the price. Growth Tech is sold mostly online for about $20 to $22 per bottle. One bottle, 120 capsules, is a month's supply. While that may sound like a good deal, that's actually much lower than many products in the same market. They offer no free shipping, free trials or special bulk offers. At $22 a bottle, that hardly seems necessary. However, the question remains - even at such a low price, what exactly are you paying for?
Does Growth Tech Work?
Because Growth Tech is targeted at serious weight lifters and not the consumer looking for a human growth hormone product intended to slow aging, it is difficult to assess whether or not the product works as promised. As part of a regular weight lifting routine and healthy diet, experienced bodybuilders are likely to see results. If a person exercises rarely or not at all and is looking to take advantage of this product, they will be disappointed.
Most disappointed of all, however, will be those people who are looking for the age fighting properties of human growth hormone. Thinking that they've found a deal in $22 Growth Tech, these consumers will soon realize that Growth Tech makes no promises along these lines, makes no explanation of why the ingredients differ so greatly from those of more established HGH products and in fact, gives no reason, literature or description at all of how human growth hormone is associated with the product in the first place.
Editors Choice
Click here to see which HGH product ranks the best on our
comparison chart
.