Longevity HGH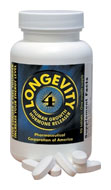 How Does
Longevity HGH Compare?
Click Here To See The Reviews
Rated: 8.25 out of 10
by BuyHGH.com
Longevity HGH, a human growth hormone capsule from Dr. Nieper, is purported to fight the signs of aging by speeding up metabolism, restoring hair and nails to a youthful glow and reducing body fat. With two separate components, Longevity HGH is one of the more popular human growth hormone products currently on the market.
Longevity HGH Review
Though Longevity HGH does have two separate sets of active ingredients, the unfortunate truth is that many of them are likely just label dressing. That is, while the ingredients look impressive on the Longevity HGH label, the amount actually contain within a dosage of capsules is not even close to enough to what is required to stimulate the pituitary gland into producing more human growth hormone than it already does. The shortfall in several key ingredients is compounded by the fact that as a capsule product, even the limited amounts of these active ingredients present in Longevity HGH are unlikely to be completely absorbed into the system. Rather, a portion will pass through undigested and not utilized.
Longevity HGH Ingredients
The two sets of ingredients in Longevity HGH are referred to as 2-AEP and HGHR. 2-AEP consists of calcium, magnesium and potassium, standard dietary supplements that are apparently in a ratio effective in fighting the signs of aging. The active ingredients in Longevity HGH that most consumers will be looking for, however, is the amino acid stack that makes up the HGHR, or human growth hormone releaser, portion of the product. Containing arginine, glutamine, lysine and tyrosine, they are paired with 75mg of anterior pituitary to make up the HGHR portion of Longevity HGH.
Buy Longevity HGH
Longevity HGH is available from the manufacturer with several different pricing options. A bottle of 90 capsules (a one month supply) is $45 plus $8 in shipping and buyers will be enrolled in an autoship program, receiving a new bottle with the same charges every month. Larger supplies, such as four months at a time, offer a slight discount at $145. Searching the manufacturer's literature brings up no return instructions or refund conditions.
Does Longevity HGH Work?
If judging was done solely by the ingredients on the label, Longevity HGH would seem to be the perfect HGH supplement. The amino acid stack present among the ingredients is a proven formulation. However, the actual quantity of these amino acids leads to disappointing results. Those using Longevity HGH are likely to experience some initial positive results, such as more energy, higher stamina, and possibly a bit of a boost in physical ability. Unfortunately, the body will eventually adjust to the stimulation and HGH production will drop back down to normal, as the amino acid stack is not strong enough to continually back up the anterior pituitary. Longevity HGH is a decent product for those needing a quick, short term boost, but those interested in continued, long term results should look elsewhere.
Editors Choice
Click here to see which HGH product ranks the best on our
comparison chart
.