Renewal HGH Advanced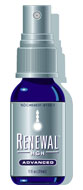 How Does
Renewal HGH Advanced Compare?
Click Here To See The Reviews
Renewal HGH Advanced, a product from the Always Young HGH line, is a human growth hormone formula in spray form. Promising to decrease signs of aging, reduce fat and build muscle, it is designed to accelerate the effects of human growth hormone upon the body. Like other products from the same manufacturer, Renewal HGH Advanced relies on an ingredient called PVM (purified vibrational memory) water to set it apart from other HGH spray products.
Renewal HGH Advanced Review
Commercially available human growth hormone products generally fall into two categories - capsules and sprays. The edge that Renewal HGH Advanced claims to have over other spray products - the fact that it promotes an increase in HGH production and additionally an increase into how well the body utilizes HGH - rings mostly false. As detailed below, Renewal HGH Advanced does not contain enough active ingredients to promote any significant increase in human growth hormone production within the body.
Renewal HGH Advanced Ingredients
As mentioned above, the base ingredient in Renewal HGH Advanced is their proprietary PVM water. From the literature on the Always Young HGH website, this is water that has been treated with light and special minerals to restructure it in order to deliver a more potent product. Reading between the lines, the main ingredient in Renewal HGH Advanced is essentially water. The product also contains RNA, protease and albumin, with the main active ingredient being Somatropin, or HGH. When the active HGH ingredient is combined with the PVM water, it is at a concentration of 30x. In a one ounce bottle, a concentration of 30x HGH is not enough to even be detected. There are no other ingredients included in Renewal HGH Advanced that are designed to stimulate or encourage natural HGH production.
Buy Renewal HGH Advanced
Renewal HGH Advanced is available through several online retailers, including the manufacturer's site. A one ounce bottle sells for $40, though there are occasional sales offering four bottles for $99. The directions for using Renewal HGH Advanced indicate that in order to experience results, it is essential that the product be used consistently for three to four months. Considering that a one ounce bottle is intended to last five to six weeks, a consumer should expect to purchase two to three bottles of Renewal HGH Advanced for an investment of $120 before expecting to see significant results. Renewal HGH Advanced is offered with a 30 day money back guarantee, minus the cost of shipping. Since results cannot be expected within 30 days, those purchasing Renewal HGH Advanced should be aware that at the end of the three to four months prescribed, there will be no refund available.
Does Renewal HGH Advanced Work?
With a main ingredient of water and a concentration of HGH undetectable within a one ounce bottle, Renewal HGH Advanced does not fulfill its promises. While the base of many spray HGH products is water, Renewal HGH Advanced includes no ingredients to support the low concentration of Somatropin or increase production of natural HGH within the body. Human growth hormone delivered at such low levels will not cause any significant change within the body.
Editors Choice
Click here to see which HGH product ranks the best on our
comparison chart
.